2020: Our Year of Challenge, Opportunity and Growth
Mauve Group's Year in Review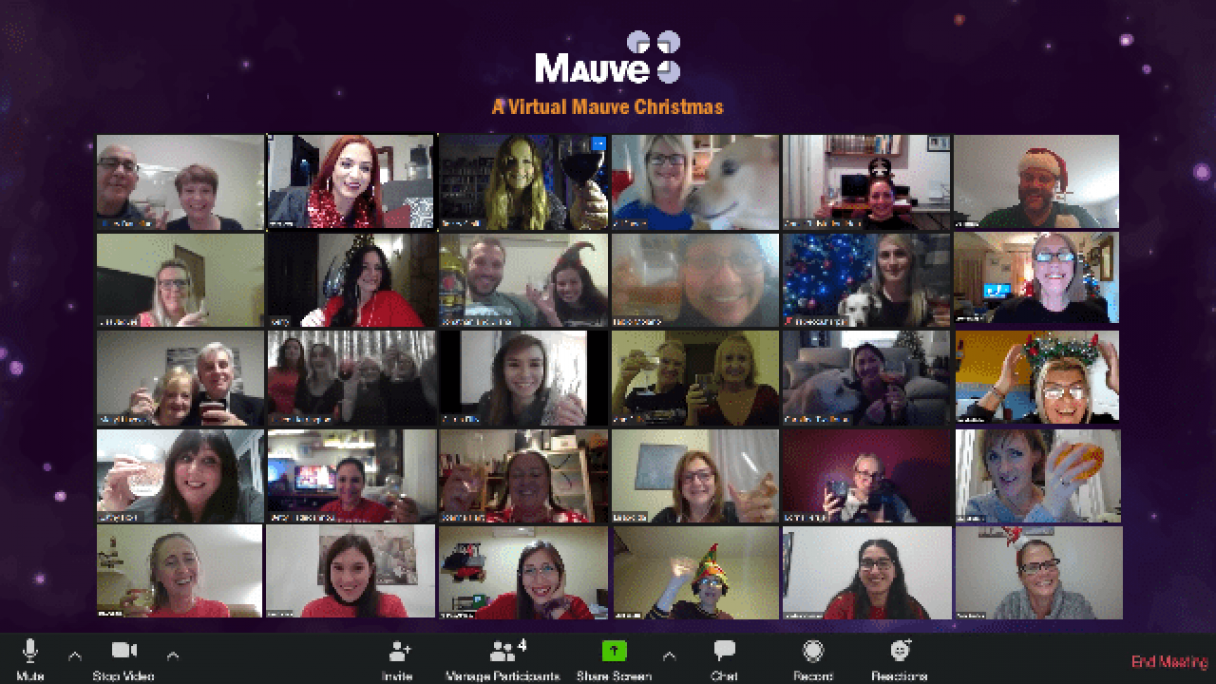 There's not a lot that hasn't been already said about the crazy year of 2020. We've all learnt new words that have forced their way into our vernacular – terms like "unprecedented", "rollercoaster", and "the new normal" have been hard to avoid. This year has been one of challenge, change and confusion– but also of opportunity and growth.
At the start of the pandemic, like many companies we were apprehensive about how the world of work might change. The landscape was "unchartered territory" – another of those phrases we've come to know so well in 2020. However, we also knew the value we could bring to organisations despite the new barriers springing up worldwide.
Our network was broad, our solution package strong, and with almost a quarter-century in business under our belts, we had successfully weathered big storms before like the 2008 global recession. We knew there would be challenges ahead, but we were confident in our ability to push through.
Leveraging our resources
We also knew that our own strengths as a company could be leveraged to support organisations that were struggling with the business impacts of the virus. Where a company's resources were stretched thin and staff furloughed or dispersed, we could offer consolidation of costs, security of compliance and greater global efficiency.
Importantly, we could also be on-the-ground on an organisation's behalf where they couldn't – lending an ear of support to their staff and workers, explaining government support packages, finding new employment solutions for workers who found themselves displaced by the virus.
Safeguarding your people
With a large foothold in the non-profit and charitable sectors, we've long understood the need for a sensitive, human touch in business – and this stood us in great stead for this year.
We initiated a programme of support for on-the-ground workers – including one-to-one phone check-ins to ensure everyone was comfortable and safe, and sending regular mail-outs with up-to-date information about COVID. We began publishing regular videos on our Youtube channel that provided visual connection and offered the chance to get to know Mauve staff, along with tips, tricks and advice to support people through lockdown and beyond.
Supporting our people
The wellbeing of our Mauve colleagues is always of top priority, and so the company took steps to smooth the transition to our new circumstances. With a global workforce comprising of many remote workers and office-based employees even before coronavirus, we were well-used to maintaining a digital community, but wanted to go further to ensure no-one suffered burnout and the ill effects of pandemic life.
Our own employees and partners, clients and friends came together for restorative weekly yoga sessions over Zoom, led by our Ireland Country Representative & qualified yoga instructor Teresa. We initiated an online community where we could share our lockdown recipes, new house-based hobbies, TV and book recommendations and most importantly, pet pictures. We also ensured that we honoured the successes and hard work of our team members, nominating those who had gone above and beyond to support their teammates on a professional and personal level. Despite the physical barriers, we bonded as a global team this year and look forward to bringing these new connections into 2021.
A record-breaking year
It's no exaggeration to say that this has been our busiest year on record. As the concept of remote work suddenly placed itself at the forefront of every HR professional's mind, and organisations began to forge future plans, we saw a huge upsurge in new business enquiries. This came alongside an already increased workload as a result of labour changes and travel restrictions. We immediately set in place our business continuity measures to maintain our award-winning service levels, and developed an action plan for growth to meet the escalating demand.
The hard work of the entire company paid off with the announcement that Sales and Business Development had converted their highest ever number of new clients in one year, a huge achievement amid an unstable global business environment. Every individual and department at Mauve had a part to play in this record-breaking accomplishment, and we've been able to extend our support, resources and network to help many new companies through the pandemic as a result.
New solutions and services
We've still found time to build on our market-leading portfolio of country solutions – adding 14 new country locations this year, and bolstering existing solutions to bring greater efficiency and cheaper cost to our clients. We also expanded our value-added services and benefits to include more popular health and wellbeing options such as life insurance.
Events, media coverage and awards
Back in March, when events were still in-person, Mauve's CEO Ann Ellis delivered an inspiring keynote speech at Relocate Global's Think Women event to mark International Women's Day. We joined Relocate again two months later to sponsor their 2020 Awards, this time held online but certainly no less of a party.
Our global events season was largely postponed to 2021 – but we made sure to support those who had made the move online. We participated in THET's 2020 Annual Conference, and NACUBO's 2020 Global Operations Forum.
The second half of the year saw Mauve's achievements officially recognised – in October, we were happy to be shortlisted for Global PEO Provider of the Year at the GPA Awards, receiving amazing support and feedback from our clients to support our submission. In December, our Irish company received an All-Star business accreditation, one of the most prestigious quality marks in the Irish market. Read more about this honour here.
We achieved coverage in some prestigious global publications, such as International HR Adviser magazine, CERC's Perspectives magazine, Relocate Global's media channels and a feature in the Irish Times' Sunday supplement.
Finally, we celebrated this jam-packed year with a cross-border, cross-timezone Christmas party for all of our global staff, expertly organised by our events maestro Demetra Tofarides. Even though we couldn't toast the season in person, it gave the opportunity to unite together beyond our usual country-by-country celebrations.
Expanding the Mauve family
In 2020 we also added to the Mauve family with a number of new positions across Sales, Marketing, PR, Payroll, Contracts, Compliance and Finance. Each and every one of our new colleagues has adapted fantastically to their new roles despite the unusual circumstances.
2020 was a time for recognising the incredibly valuable contributions of our existing, internal staff, too. We had cause to celebrate as we announced two internal promotions – in October, Tamalyn Ellerington took on a new role as Global Business Development Manager, and just before the new year we announced Jo Hart would be the new Country Solutions Manager, heading up the Research and Solutions department. We look forward to expanding the team further in 2021.
Looking to the future, celebrating the past
We go into 2021 buoyed for the future of Mauve Group – but also celebrating the past, as we commemorate our 25th anniversary this year. A quarter-century in business is a huge achievement in a relatively young industry and an increasingly competitive environment, but our successes show us that our clients, partners and workers share the belief we have in Mauve. Watch this space for exciting announcements, surprises and events throughout the year to mark the occasion.
All of us at Mauve Group would like to say a huge thank you for your support in 2020 – and we look forward to bringing you along on our journey into 2021.