What are Digital Nomads?
Untangling Global Mobility's COVID19 Buzzwords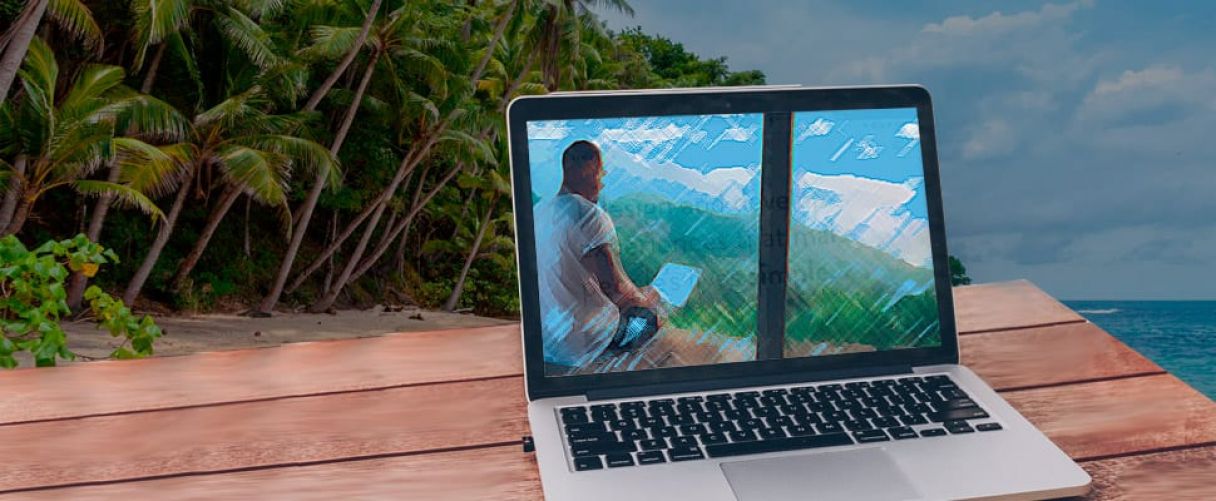 What are digital nomads?
Digital nomads are individuals who are not tied to one location, and travel from place-to-place using technology to connect them to the world. In an HR context, they use telecommunications technologies as their means to work from wherever they are currently situated.
The digital nomad lifestyle is attractive to millennial and Gen Z workers as more and more young people move away from traditional social norms either through necessity (low financial security, lack of housing etc) or simply a desire to travel and see the world. COVID has put many of these plans on hold and has adversely impacted the travel industry, but Google searches around terms like "jobs that allow you to travel" have seen dramatic increases throughout the lockdown period.
Why are digital nomads on the increase?
COVID has turned our concept of the world of work upside down – in particular, the notion of where and how we work. As we talked about in previous posts, workers became decentralised from their main office location due to global lockdowns, and this has given them an insight into a life outside of the constraints of commutes and physical proximity.
The claustrophobic nature of lockdown has also seen many regular travellers longing for experiences outside of their current country. However, job losses and damaged economies are giving workers an understanding of the importance of financial security. There is now increased risk and competition for young people who are entering the job market and this could prevent them from putting off a career to go travelling. Instead, many are turning to working gap years and looking for ways they can earn whilst travelling.
Employers are also seeing the value in giving workers the space and freedom to choose their work location. Digital nomadism can boost wellbeing by creating a better work-life balance, and can engender a relaxed culture of innovation and creativity learnt from becoming more worldly-wise.
Digital nomads can tap into a broader pool of jobs when job hunting, as the world is quite literally their oyster – provided that they have the technological means to engage with their employer and remain productive while out of the office.
How could digital nomads impact global HR?
Key impacts to HR fall into two distinct categories, depending on whether the digital nomad is an employee of a company, or whether they are providing freelance or contract work.
From a compliance perspective, if the digital nomad remains a full employee, their employer will have a responsibility to ensure they are working within the legal frameworks of their country of choice. Where will they consider "home" for the basis of their employment agreements and payroll?Where are they registered for tax and social security – does this need to be reassessed depending on how long they reside in a certain new location? Do their contracts comply with local legislation and adequately provide for their newly transient lifestyle? Are there any health and safety implications of their regularly-changing work location? Do the company's policies allow for digitally nomadic working models?
The concept of Digital Nomadism and decentralisation from offices might create a need for companies to invest in better productivity software, to keep tabs on remotely-operating workers or ensure collaboration between teams situated in different areas. Employers or clients would need to consider how their technology will hold up when individuals are travelling globally.
Increasingly digitally nomadic workers could spell a rise in freelancing or contracting. This may be tempered by the job security worries people have experienced as a result of COVID-related recessions, but many may have been pushed into freelancing due to redundancies and saturated job markets. They may take the opportunity to be their own boss and carry out their work on the road. If new to the contracting world, these individuals could need assistance with invoicing and payments, and establishing whether they are compliantly defined as a contractor, freelancer or employee in their main location of work. They may have trouble working out their tax obligations, particularly in complicated situations involving lots of countries. In these circumstances, a qualified global HR provider like Mauve can help.
People are increasingly considering the digital nomad lifestyle post-COVID – and this can offer numerous benefits to workers and companies alike. Mauve Group can help to facilitate a digital nomad lifestyle through many different services, including Employer of Record, Global Payroll, Global Immigration, Compliance and Risk Assessments and so on. To find out more about how we can help, get in touch for a free no-obligation quote.