Mauve Group Shortlisted at the Think Relocate Awards 2021
Mauve shortlisted in Relocate Global's Excellence in Relocation Management or Mobility Support category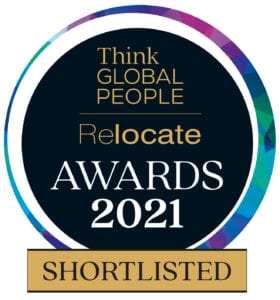 Mauve Group is delighted to have been shortlisted for the Think Relocate Awards 2021 in the category of Excellence in Relocation Management or Mobility Support.
Amidst Mauve's celebrations of a quarter-century success in business, we will be joining Relocate Global at its annual awards ceremony in June to honour the achievements of organisations and individuals across international management and global mobility.
Global mobility is a term used to describe a multinational organisation's ability to move its personnel from one country to another for the benefit of the employee and business – our experts at Mauve help to make this happen. Despite the many difficulties companies have faced throughout the COVID-19 pandemic, we are proud to have supported international organisations and their workers through our Employer of Record solutions – many of whom would have been otherwise unable to continue working.
In the category of Excellence in Relocation Management or Mobility Support, the judges will evaluate how the shortlisted organisations are making a difference in a new business landscape – including their road map for the future, and how they have delivered excellent service levels to workers, families and organisations in these challenging times.
The Think Relocate Global Awards 2021 will be taking place as a virtual ceremony on 11th June 2021.
For updates on Mauve Group at the Think Relocate Awards, follow us on Twitter and LinkedIn – we hope to be sharing some good news with you soon!