10 Payroll and Compliance Trends For 2021
What the Experts Say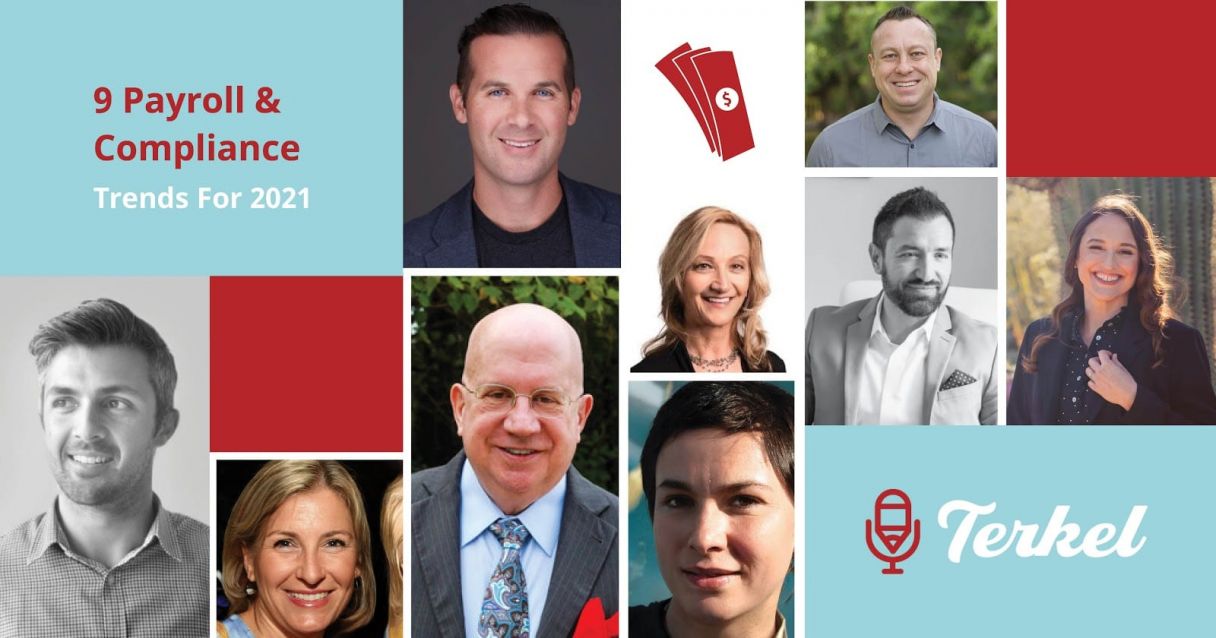 There's been countless compliance changes and plenty of payroll pivots in 2020 to last a lifetime. As we approach the year-end, what payroll and compliance trends should we expect to see on the horizon for 2021?
We asked payroll and compliance experts, as well as business owners from around the globe to look into their crystal ball and forecast the year ahead as it pertains to payroll and compliance trends. Here are some of their insights and predictions that you can begin to prepare for.
Salaries Remain Competitive
Median salaries are fairly stable across the board. As companies are more mindful about who they hire, employers are fighting to hire skilled professionals for the specific talents they are looking for. The best candidates in the hottest sectors will be looking to negotiate a bump in pay.
Ryan Nouis, TruPath
Preventing Discrimination & Sexual Harassment
Preventing all forms of discrimination and sexual harassment is one compliance trend that spans organizations and industries. In 2021, organizations must ensure their workplace discrimination and harassment policies, processes, procedures and training are up to date with laws and requirements and are relevant to employees working remotely or in a hybrid environment.
Andrew Rawson, Chief Learning Officer, Traliant
PCI Training
The rise of COVID has brought a steep decline in cash payments. The majority of transactions taking place in the world today are with credit cards, which makes properly handling cardholder data a priority for organizations. For some organizations, keeping cardholder data is new for employees. That's why from a compliance perspective, PCI-DSS (Payment Card Industry Data Security Standard) compliant and aware hopefully will be more of a common training offered to employees. PCI training can help keep customers safe and protect sensitive business information.
Nick Santora, Curricula
Evolving Paid Time Off Regulations
As an HR consultant, I'm watching the evolving regulations around paid time off for employees. With the Coronavirus pandemic came new paid sick leave obligations for thousands of small employers. Many state and local governments are working to enact similar legislation so that when federal rules expire, (12/31/2020) employees have paid sick leave to fall back on in 2021.
Niki Ramirez, HR Answers
Additional Needs for Time Keeping
In our growing virtual work environment there will be additional needs for time keeping; we will no longer simply clock in and out at the beginning and end of work. Work has become fluid and flexible and timekeeping needs to be able to track this trend. Leave Management is another changing trend – Keeping up with changing policies and tracking eligibility, availability and usage of various leaves.
Sonja Talley, Principal HR Consultant
Delays in Processing
The IRS will still not be caught up by the end of 2021. As of early September 2020 they still had seven million pieces of unopened mail and were not at full staff to open and sort the mail. Everything is behind. Expect continued delays in processing: returns, checks, penalties and everything else into 2022.
The Service is trying to cope with The Taxpayers First Act requirements and still making plans on how to implement the changes the Congress has already passed into law. So we have the IRS trying to reorganize themselves to comply with the law while operating with reduced staff and many people unavailable working from home for who knows how long. They are probably not going to be able to meet deadlines imposed by Congress.
Charles J Read, GetPayroll
Salary Increases and Pay Raises
2020 has seen company-wide pay reductions, layoffs, furloughs, and more. Requesting a salary increase or providing a pay raise to dedicated employees hasn't exactly been top of mind this year. That'll change in 2021. Expect employees to get more bold in requesting raises as unemployment trends in a more positive direction, and expect employers to reward loyalty as regular profit margins return.
Brett Farmiloe, Markitors
Online Payroll is No Longer Limited to Large Companies
We see the digital transformation of workplaces is no longer limited to big corporations. Payroll automation has steadily gained traction over the last few years and 2021 will be the year it's fully embraced by businesses of all shapes and sizes around the globe. Companies are now clearly seeing the benefits of removing human errors and time inefficiencies of manual payroll. At the other end the cost software is coming down, and the evolution of artificial intelligence makes systems better at interpreting pay rules. Together, this creates the perfect conditions for 2021 being the year payroll automation is fully embraced.
Jon Arrigo, Microkeeper
Work From Home Benefits
As companies and businesses have experienced remote work set-up, they will definitely open doors for work-from-home benefits for their employees. They will include work-from-home benefits for employees in 2021 and it will be one of the new trends for next year. As a business owner, I will invest time in planning about it and to implement it in my own company.
Sonya Schwartz, Her Norm
Digital Wallets
Technology is taking over how we do our payroll and it's up to our companies to innovatively follow the trend of how payroll is being done. And as for me and my law firm, we plan to use digital wallets. With just a punch of a button we can see transfer the funds from my bank to my employees digital wallet. And what's great about it is that we'll just use our smartphones and boom, no hassle for you and no hassle for your employees. Plus, your employees can also use their digital wallets in stores that accept digital currency.
Jacob Sapochnick, Sapochnick Law Firm
Rise of Cryptocurrencies
As someone who manages a team of remote writers, I am also in charge of the payroll and I am constantly on the lookout for trends that our company might need to adjust to. For 2021, with the long-lasting effect the pandemic has brought upon us, I can say that payroll would lean more into innovation, like the use of digital wallets and other forms of currencies like bitcoin. With people realizing that cashless transactions are easier and safer, cryptocurrencies as a form of salary could be possible.
Samantha Moss, Romantific
This article is from Terkel, a platform that connects brands with experts. Share your insights to questions and get published.