Global Employer of Record: Guide for Workers
Everything a worker needs to know about Employer of Record onboarding and beyond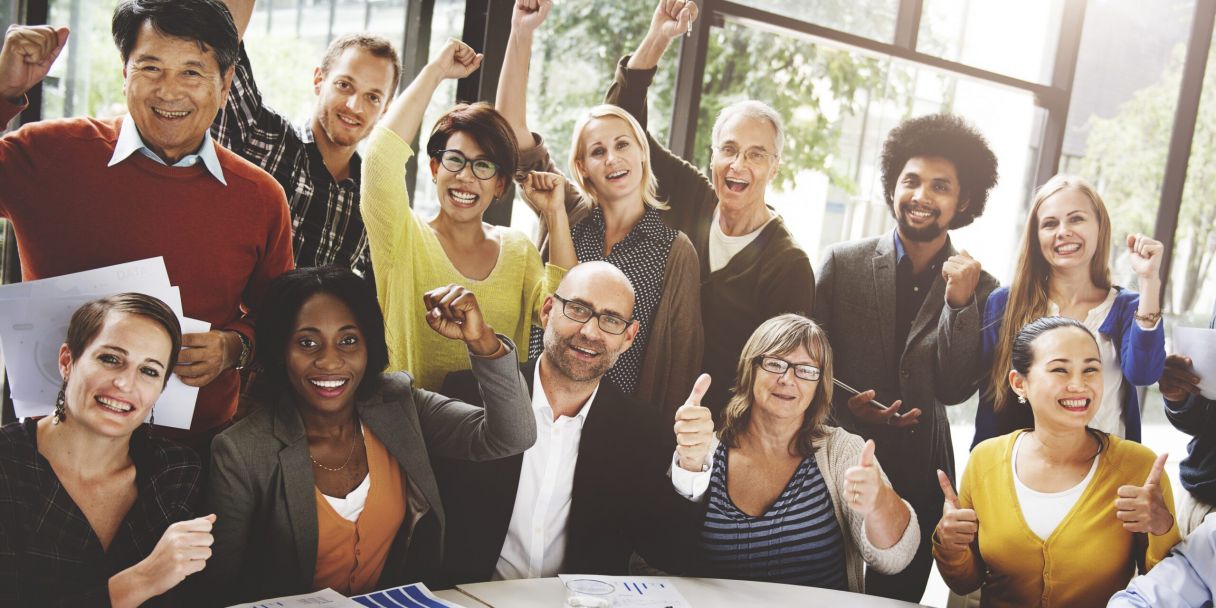 You've heard the term Employer of Record, but you're not quite sure what it entails. Perhaps you're an existing employee of a company and have transferred to an EoR solution – or you've been recruited to a new role where the company want to use an Employer of Record. Maybe you're about to embark on an overseas assignment, and you're being supported by an Employer of Record to work in-country.
Whatever the reason, Employer of Record is an employment model that has grown dramatically in popularity in recent years, and is becoming a go-to method of work for many innovative employers. It connects to new talent pools, helps to optimise internal resources, and allows access to international markets without the need for setting up costly entities.
This week, we'll break down what you need to know to get started under an Employer of Record solution.
What is an Employer of Record?
Employer of Record is a concept that has been around for many years as companies become more global, but has only started to pick up name recognition in the last five years – mainly due to the explosion in remote work.
Under Employer of Record, a worker is employed by a third-party company, usually because your existing company does not have an active entity set up in the location of work. You, the Employer of Record and the existing company are connected in a three-pronged contractual relationship.

While your existing company will continue to direct all your day-to-day tasks, the Employer of Record will take on all the local HR tasks, making sure you are fully compliant to work in that country and receive your payments on time locally. They are in effect your local employer, and all three parties work continuously in partnership to make your employment smooth and seamless – leaving you to concentrate on the job at hand.
How does it work?
But how exactly does the onboarding process work? From the moment a global EoR provider is contacted with your requirement, a series of cogs are set in motion to ensure you have a stress-free journey to compliant employment. Below are the key action points in the onboarding process and beyond to help you understand how your employment will work.
1. Pre-onboarding
The first step to an Employer of Record solution is usually the creation of a proposal – this is an initial document in which the details of your Employer of Record solution are ironed out between your company and Mauve. This contains a sample payroll calculation and any additional specific details of the employment for that location – for example, any statutory labour or immigration requirements that might apply to the assignment.
At this stage, no personally-identifiable information is usually needed but basic information of your assignment will be shared with the Employer of Record. This may include details like:
Location of assignment
Your nationality
Role
Salary
Contract type and start date
You are unlikely to be too involved at this stage, as your company will tend to liaise directly with the Employer of Record. Once the proposal is agreed, Mauve and your company will also draw up a service agreement between them, and the onboarding process can begin.
2. Onboarding process begins
To get you onboarded so you can begin work under the EoR solution, Mauve will need a few more pieces of information – each solution is unique and bespoke to your individual circumstances. The information they might need could include:
Job description.
Your contact details, including residential address, address in country of work (if different), work location, phone number and email address.
Additional details of assignment.
Reporting manager details.
Further remuneration details – including additional benefits, rewards, commissions or expenses.
Tax and SS numbers for payroll purposes.
Identification documents e.g. passport.
Applicable work permits or visas, if you are a foreign national.
Educational certificates – these may be required to support immigration applications etc.
They can usually get this from your existing company, but you may be contacted if there's anything extra they need.
Once all the documentation is received, the Employer of Record will confirm everything matches the local labour requirements, and will set about with the rest of the onboarding.
3. Introductions to your new Employer of Record contacts
At this point, Mauve Group will contact you to introduce our company and welcome you to your new solution. You'll be made aware of key contact points so you know exactly where to go if you have any questions.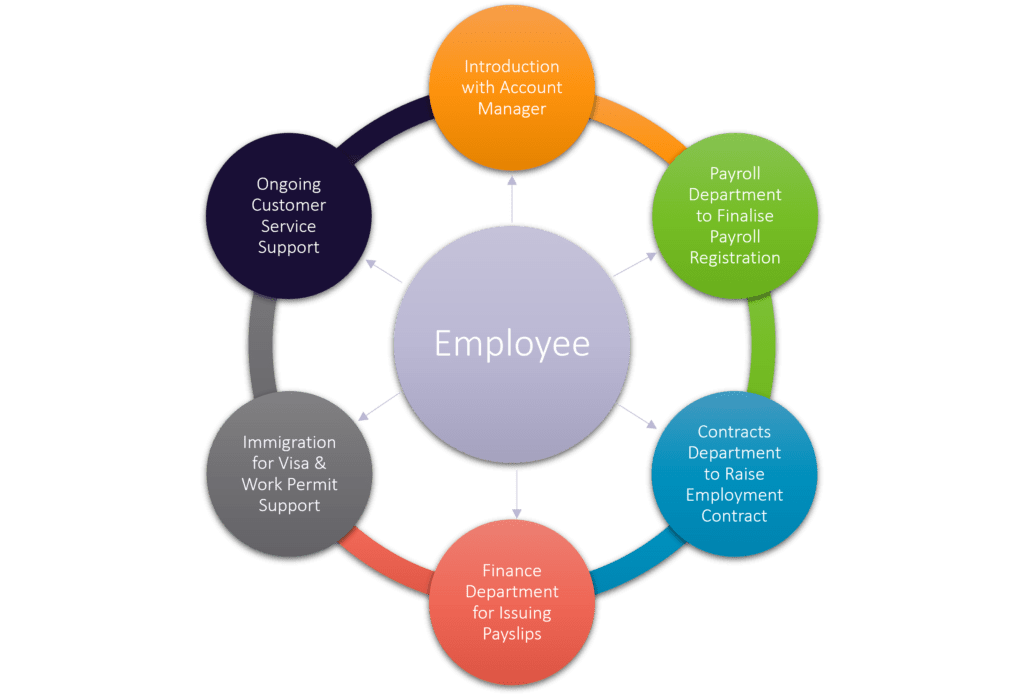 This is an important step in the onboarding process – Mauve and your existing company work together to make the experience smooth, so it's useful to have open and clear communication channels between all three parties.
4. Local employment contracts raised.
Behind the scenes, Mauve and your company will have been liaising to put together your local employment contract. Where possible, your company's standard clauses will be incorporated into the contract, but sometimes your country of work might have a legal requirement for a certain type of standardised contract or template. In that case, it might look a little different from what you're used to, but Mauve will make sure you're completely clear on why this is and what it means practically.
If offer letters are required, these will also be drawn up by Mauve's Contracts team. Once the contract is agreed by all parties, it will be made available to you for signing.
5. You'll be registered on to the local payroll.
You'll also be registered on to a local payroll by Mauve. As you/your company will have supplied most of your employment details, you may not have much involvement with this part of the process – if anything extra is requested by the authorities, you may be contacted.
The process for this differs from country to country, but generally-speaking, this involves the employer submitting the worker's details to the tax authorities, obtaining any necessary registrations and setting you up on internal payroll and banking software.
6. You'll receive your confirmed start-date.
Your start date will sometimes be confirmed while some of the previous actions are ongoing, but it's likely you'll be able to get started once the onboarding process is complete.
Some countries require right-to-work confirmation is carried out on or before a worker's start date – you'll be contacted by your account manager or client liaison representative with full instructions to carry this out.
Once you've reached your start date, you're now fully onboard! Skip to "What happens after onboarding?" to understand how the process works from that point on.
Immigration requirements
If you're a foreign national and require a visa or work permit to work in country, our Immigration department will be in touch to request the necessary documentation and explain the process. This will depend on the country of work, and timescales for approval vary as they rely on the government processing times and other outside factors. However, we always manage everyone's expectations and plan start dates to match up with potential approvals – so you're in good hands.
What happens after onboarding?
After onboarding, you're now employed under an Employer of Record solution with Mauve. The process going forward is usually very smooth – in fact, you may not notice any difference from your existing set-up if you've already been working in that country.
You'll receive regular salary payments on the date that has been agreed between Mauve and your existing company, in line with any requirements in the country of work. Sometimes this is monthly, sometimes twice-monthly – you'll be made aware of your regular pay date before the solution commences.
You'll have access to a regular payslip which will show your pay, employee and employer contributions. If any rewards, compensation or benefits are due, these will be paid to your account less any taxes and reflected in your payslip.
Your contract will run for as long as the agreed term. If it is fixed term and requires renewal, the Contracts department will liaise with your company to organise, and this will be actioned ahead of the renewal date.
We'll manage your employment on an ongoing basis, depending on the laws in the country of work. Between Mauve and your existing company, we'll handle any mandated local HR requirements that crop up, such as performance reviews, leave requirements and any changes that arise.
If your employment comes to an end, we'll action what's know as the offboarding process. This involves deregistration from payroll, contract termination, and provision of any documentation you'll need to start a new job.
Throughout your employment with Mauve, you'll have contact with your Account Manager and Client Liaison team. At the start of your employment you will receive details on all the key contacts so you know who to speak to.
Client Services
We have a dedicated department who are here to make sure you feel happy and comfortable in your role. Client Services will contact you to arrange regular catch-ups, usually carried out over the phone. This will take the form of a friendly and informal chat, where you can offer any feedback – they can also escalate any issues so that you quickly reach a resolution.
At Mauve Group, we design our bespoke solutions to each unique case. As such, processes might deviate slightly from this outline; our expert global team are always on hand to walk you through onboarding as it applies to your circumstances.
If you're a current or prospective EoR worker and you have any questions about the solution, you can contact clientservices@mauvegroup.com at any time.
To find out what it's like to be an Employer of Record worker from the people at the heart of the solution, click here or here.