What happens when the ″Great Remote Work Experiment″ becomes permanent?
Salesforce's new remote work policy, and what it means for the world of work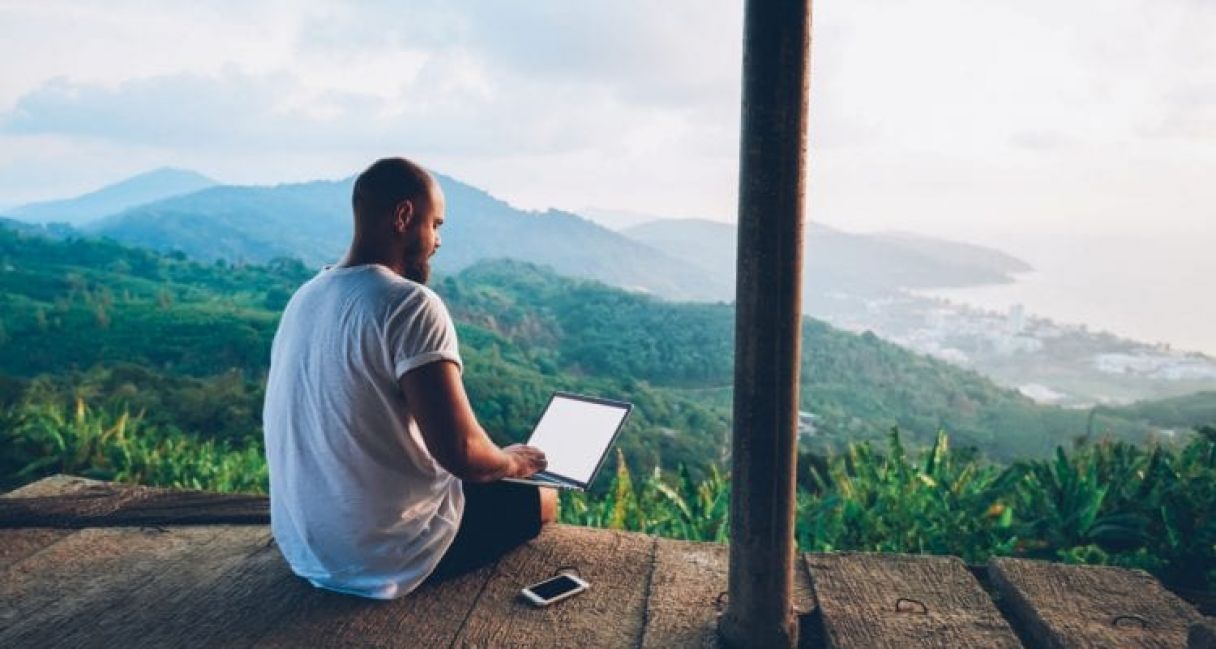 Earlier this week, Salesforce became the latest global tech employer to announce a permanent work-from-home policy. Salesforce's announcement follows similar from other big "Silicon Valley" tech companies like Twitter and Facebook, with Mark Zuckerberg asserting his organisation would be 'the most forward-leaning company on remote work at our scale'. Google revealed it was testing a hybrid remote work policy last year.
Some saw these reactions early on in the pandemic as kneejerk, and as hope of a vaccine grew many wondered if a return to the normality of office life would quickly follow. However, Salesforce's announcement seems to cement the trend towards remote work becoming a permanent standard – sparking debate about the implications for productivity, wellbeing and economies.
For us, remote work is not a new concept. We've not only built a business around services that help people work from anywhere, but we've also practiced it as an organisation. Before the pandemic, our workforce was spread across our centralised head office locations, as well as smaller satellite locations and home work sites. This mix has always allowed us to adapt quickly to new situations, spread our on-the-ground reach, and become more responsive to our clients. However, from our experience, remote work has to have a carefully-crafted approach that can seem daunting to the uninitiated.
Salesforce's announcement has sparked interest because of what it signals for the world of work as we know it. Does this mean the great remote work experiment is here to stay, and will smaller scale organisations follow suit?
"The 9-5 workday is dead"
Salesforce's announcement on their company blog reads like a manifesto for a brave new era of work. The messaging is strong and clear – to Salesforce, the "9-5 workday is dead". The introduction of their new policy signals to them "the future of work" and "the next evolution of our culture." For Salesforce at least, the changes brought about by the pandemic have a longer shelf-life than the point at which offices become safe again.
Tech companies have long led the way in driving innovative workplace step-changes. Mythical-sounding stories from Google HQ about personal chefs, nap rooms, onsite entertainment and even slides between floors trickled into our consciousness and took seed in the mid-2010s. These stories flew in the face of the segregated, grey-cubical office spaces and coffee-fuelled corporate drudgery images of 1990s popular culture, and became aspirational.
The appeal wasn't simply limited to the employees. Over time, these unconventional approaches became the best practice models for many organisations beginning to understand the link between productivity and employee wellbeing. Tech leaders spoke out about how the data showed these fun new environments actually breeding collaboration, efficiency and innovation.
Exciting and dynamic employee-centered cultures became the goal even for SMEs and sole traders, with flexible shared-workspaces like WeWork enabling them to incorporate social calendars, collaborative spaces and work-life balance practices to their own cultures.
Salesforce was part of that revolution right up until the beginning of the pandemic, acknowledging the importance of immersive spaces and gatherings of thousands as vital to their company culture. But as the pandemic took hold, these methods of employee engagement simply weren't possible anymore. And the sudden move to home working brought a new observation into stark focus – what employees wanted for their future workspaces had shifted beyond the centralised office.
Employee-driven change
Salesforce acknowledges that "employees are the architects of this strategy", with insights gained through employee surveys throughout the pandemic. But why exactly do employees want to make their remote work arrangement permanent?
At the big tech companies, perhaps there has been a demographic shift that is driving this change in attitude. The excited and dynamic youngsters enjoying the bright colours and social events of the mid 2010s have families, pets and mortgages now. Some have moved out of cities for more space and value-for-money, leading to population declines in global capitals according to numerous reports including this study by PWC. Many workers now face longer commutes if they return to an office.
Some have simply had time away to think and learn about their life circumstances and what they want for the future. The pandemic has caused many more of us to prioritise our mental health than ever before, and perhaps the chaotic events of 2020 have sparked greater confidence to speak out on our needs.
At Mauve, we've incorporated remote work options for many years, balancing employee need with operational requirements. As a predominantly female workforce, remote work allows our employees with caregiving responsibilities to achieve better work-life balance and access greater career equality. It also helps us to attract talent with a desire for travel and flexibility – something we've found particularly appealing to millennial and Gen Z employees.
Finding the balance
Remote work isn't the goal of every employee, however. Many of those seeking a new remote lifestyle still want a tangible connection to the office, and there are some who want a rapid return to pre-pandemic work locations. At Salesforce, nearly half of employees wanted to come to the office a few times a month, and 80% wanted to retain connection to a physical space. Many companies have supported some of their workers to still attend office locations even during lockdowns due to mental health reasons.
Younger employees are the largest cohort reporting a wish for at least a partial return to office-based work, potentially due to cramped living conditions and the benefits of office-based social connections. Ultimately, employee-centered cultures mean avoiding broad generalisation of employees – instead, the goal should be to try and accommodate the variances in needs across your workforce. As a result, companies like Salesforce are taking a flexible, mixed approach to remote work.
Will this trickle down beyond the tech companies?
Many companies the world over, no matter their industry, are reporting shifts in attitudes towards remote working – and this extends to managerial decision makers as well as employees. A Gartner study finds that 82% of company leaders surveyed intend to permit remote work at least some of the time, on a permanent basis.
The influence of the big tech companies on operational and personnel change in the world of work, and upon employee aspirations, should not be ignored. With this shift occurring in employees and leaders, it seems almost certain that parts of the great remote work experiment will pervade permanently into our work practices.
Of course, for some types of organisation where physical presence is essential, working from home will not be possible. Undeniably though, the pandemic has opened our eyes further to the importance of employee-centered approaches. Many will be looking to incorporate flexible work-life balance options into their culture.
Remote working options for smaller enterprises
Mauve Group's clients are evidence of the fact that flexible remote work policies are not just the realm of large or multinational tech policies. Companies across industries have remote work policies in place to facilitate global projects.
Employer of Record (also known as PEO) has long enabled companies to employ workers away from centralised office locations. By utilising an EoR company already set up as an employer in an overseas location to employ local staff, organisations of all sizes can bring remote workers into their workforce without the operational implications.
This model opens companies up to a wider talent pool, too – something championed by Salesforce president and CPO Brent Hyder: "our talent strategy is no longer bound by barriers like location, so we can broaden our search beyond traditional city centers and welcome untapped talent from new communities and geographies."
Employer of Record allows companies without the international operational set-up of Salesforce to employ staff wherever they want to live and work.
Expert remote work support
If the company has the ability to employ locally themselves, they can also engage support for numerous other HR considerations – Contract management to bring documentation in line with local law, compliance assessments, and HR and labour law consultancy which is particularly important around issues such as performance and termination.
International payroll support can also facilitate local payment of staff where you don't have those mechanisms in place. Payroll experts can provide salary benchmarking for that location, and also advise on how to align benefits and compensation packages with local expectations and your company policy.
Finally, if the company wants to offer on-the-ground support to staff, destination and wellbeing services can bring positive effects to morale and boost integration across their workforce.
With the right support in place, even companies on a smaller scale than Salesforce can bring an inclusive, employee-centred culture to their workplace – and facilitate remote work.
The blended approach
As a company, we've long championed the benefits of employee-focused global HR approaches – particularly the flexibility that is needed to support workers and boost productivity.
With Salesforce's announcement, it seems increasingly likely that we are witnessing a shift towards remote work options becoming a permanent norm. This isn't just the realm of large tech corporations either – smaller organisations can also reap the productivity benefits of remote work options when they carefully adapt their approach and bring the right support onboard.
However, a blended approach that takes into account the diverse, individual needs of an organisation's people will have the best impact. As Salesforce CPO Brent Hyder acknowledges, for tomorrow's post-pandemic workforce, flexibility is key:
'Whether you have a global team to manage across time zones, a project-based role that is busier or slower depending on the season, or simply have to balance personal and professional obligations throughout the day, workers need flexibility to be successful.'
To find out how your company could build its own blended remote work policy, get in touch with our experts. We'd love to continue the conversation with you on Twitter or LinkedIn.