7 Skills Needed For Global HR:
Preparing for the Challenges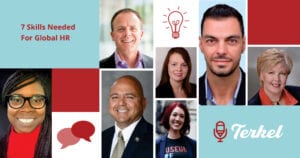 If you could pick up a new skill to better prepare you for the challenges of Global HR, what would it be?
To help you hone in on the necessary skills needed for positions in Global HR, we asked HR experts and business professionals this question for their best advice. From polyphasic sleep to developing your IT skills, there are several tips that may help you face the challenges of global HR.
Here are seven skills to pick up to better prepare you for Global HR challenges:
Polyphasic Sleep

Creating Psychological Safety

Ability To Understand Outsourcing

Global HR Professional Certification

Learn About Your Future Teammates

Hone in Your Writing and Online Speaking Skills

Develop Your IT Skills
Polyphasic Sleep
It sounds extreme, but I've always been interested in the idea of polyphasic sleep. This is a sleep strategy where you nap for short stints throughout the day, which gives you a much greater duration of time awake. With a global workforce, you will have meetings and challenges that arise at all hours of the day. By adjusting to an unusual sleep schedule, and working on that skill, you can be available when your people need you. For a less extreme version, you can adjust your work hours to accommodate more of your people.
Tasia Duske, Museum Hack
Creating Psychological Safety
I believe there needs to be a focus on growing competencies that operate best in an egalitarian, matrixed, neural network versus a hierarchical system. As a leader that specifically centers on finding ways to meaningfully drive motivation and a sense of empowerment without entitlement across teams, this is an important skill to develop. Also, creating psychological safety is important for team members to meaningfully voice their thoughts and questions. This means they will operate in a state of ongoing curiosity and collaborative exploration of new ideas and actualize steps towards progress and innovation.
Nadine Mullings, Bedford Stuyvesant Restoration Corporation
Ability To Understand Outsourcing
Outsourcing isn't just a trend. It's a transformational shift in the way work is being done. To better prepare for the challenges of globalization, the skill that can best prepare professionals is understanding the ins and outs of outsourcing. By understanding when and how to outsource work, an organization can get work done faster and done right. You should make sure to also understand how outsourcing needs to maintain compliance standards in your industry. For example, if an organization needs to be HIPPA compliant or adhere to CJIS standards, an organization needs to understand how outsourcing will maintain the protection of data.
Ben Walker, Transcription Outsourcing
Global HR Professional Certification
I would want to obtain my certification as a Global HR Professional. Certification preparation materials contain great information to help leaders be more prepared and informed on global HR challenges and resources. In addition to growing my job knowledge, I would develop my flexibility and adaptability, because one size does not fit all needs in a global HR environment. Being better able to recognize specific needs and what directives apply to those situations can be crucial to the success of the organization and its employees.
Colleen McManus, Senior HR Executive and Consultant
Learn About Your Future Teammates
I believe that the key to a Global Human Resources approach is by learning as much as you can about your international teammates. Study their culture! For example, know what type of government they have (without getting political), learn their major religion, learn what their monetary system is (Dollars, Pounds, Euros, Pesos), learn about their history. If you as an HR professional knew the history of the country, region, or state for the people you are working with, talk about a huge connection you could make. Lastly, I would say with much emphasis, if you can, learn a different language. If you are dealing with different executives, teammates, or fellow employees in a Spanish-speaking country, learn Spanish, German, French or whatever language you are collaborating the most with.
Bobby Zavala, University of Dubuque LIFE Tempe AZ
Hone in Your Writing and Online Speaking Skills
In an increasingly more online-focused world, two skills stand out: better writing and better speaking. With more conclusive and to-the-point writing you will convert more readers into believers in your hard skills. Honing your writing skills in the form of a blog benefits you double: you build up a reference to your skills as well as train the skill of writing. Better speaking in online events is harder to train, but no less worthy to work towards. Once you learned to attract people with your writing and speaking, you are well prepared for global HR.
Wesley Burger, CloudTask
Develop Your IT Skills
COVID-19 forced HR teams to rapidly switch to virtual recruiting without giving them much time to prepare. For HR professionals operating in a global environment, remote recruitment has brought even more challenges. To effectively hire new talent for your organization, you should develop your IT skills to better coordinate technical aspects of online recruitment. Becoming more tech-savvy can help HR teams to manage existing online tools better and generate new ideas for recruitment stages that used to happen in the office. For example, your new IT skills can help you find alternative ways for conducting group interviews, assessment centers, or job simulations. On top of that, your IT knowledge will make you more reliable in the eyes of your international applicants and save you from unnecessary stress related to online interviewing.
Dorota Lysienia, LiveCareer
Terkel creates community-driven content featuring expert insights. Sign up at terkel.io to answer questions and get published.