Mauve shortlisted for the GoGlobal Awards 2023
Last year, Mauve won the GoGlobal Women in Business Award.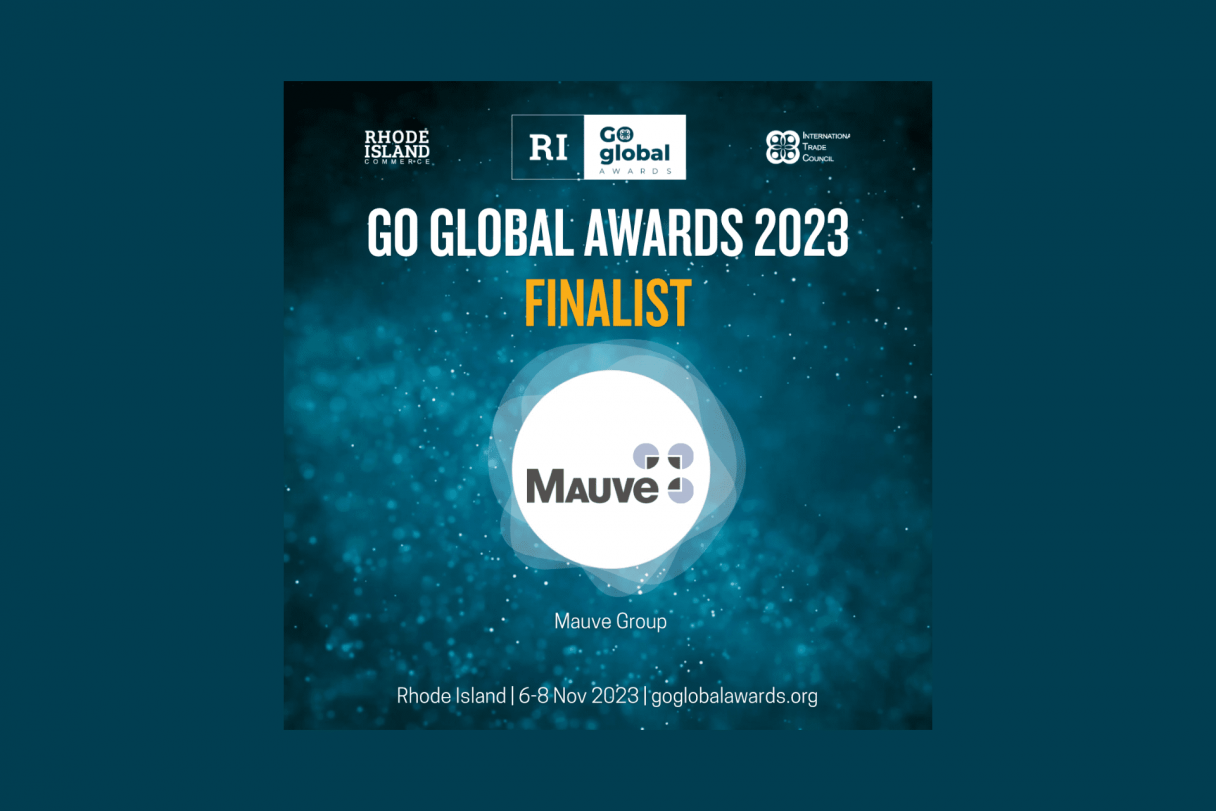 Mauve Group is delighted to announce that it's been shortlisted for this year's GoGlobal Awards.
The GoGlobal Awards, hosted by the International Trade Council, is a prestigious ceremony celebrating global companies driving the economy forward through their innovations, technologies, and strategies.
Hundreds of senior executives will gather at the finalist event in Rhode Island – with representatives from government bodies, trade associations, venture capital firms, and financial institutions. The programme aims to build a community of manufacturers, exporters, and service providers to encourage sharing of innovative ideas and forming of long-lasting partnerships and connections. During three days of B2B networking in November, attendees will take part in meetings, conferences, site visits, and a final awards dinner.
Mauve Group is honoured to have been shortlisted for the 'Future of Work – Innovate Workforce Development Program' award, which seeks to award businesses that have implemented innovative and effective strategies to develop their workforce for the future.
As one of the pioneers of the Employer of Record (EoR) model over thirteen years ago, innovation has remained integral to Mauve Group since its conception in 1996. Mauve Group stands out within the global mobility industry as innovative, having recently been presented with the 'Most Innovative Workforce Solution' award at the INT-X Awards 2023. The category recognises the most innovative and high-quality solutions in today's global marketplace.
Mauve Group's approach to the development of its software and supporting systems is all about innovation – underpinned by Mauve's people-first, client experience-oriented ethos. Last year, Mauve Group launched its new portal: Mauve Insight. The portal is a secure web-based, self-service application that allows clients and workers to access all data related to their global work assignments. Easy to use, secure, and convenient, Mauve Insight enables users to approve, track, and update information more efficiently. Although client portals are nothing new to the industry, ours has been built people-first, with user testing and input from our world-leading tech clients including Ivy League universities.
Mauve Group's representatives look forward to joining the Secretary of Commerce of Rhode Island in attending the Go Global Awards from the 16th to the 18th of November for the live judging days, with the final awards dinner and prize-giving on evening of the 18th.
For further updates on Mauve Group, or follow us on Twitter and LinkedIn. If you're looking to expand your business across international borders.